Suppose you are a business owner new to the e-commerce sector. In that case, WooCommerce will be the most suitable e-commerce platform for you with its low cost, user-friendly interface, thousands of template support, and full compatibility with payment infrastructures.
The answer to why users love the WooCommerce platform so much is straightforward. Compared to the complex e-commerce platforms, this system's management panel offers direct use. It is just one of the most important reasons why this plugin is highly preferred. It is a fast and convenient payment system for the customer and provides almost all the features needed in an e-commerce site in the manager area with a great experience.
Providing day, month, year, and product-based reporting is also essential. In this way, e-commerce site owners can report how much sales they get from which products in which periods and plan their campaigns accordingly. So let's examine what WooCommerce is with its pros and cons.
What is WooCommerce?
WooCommerce, the world's most preferred e-commerce infrastructure, is an open-source e-commerce plugin developed by WordPress developers.
Officially developed by the WooCommerce company, this plugin was purchased by Automattic and is fully integrated into the WordPress system. Designed by WooThemes on September 27, 2010, this plugin was included in Automattic in May 2015.
This plugin has 63 language options in total and is open source. WordPress developers constantly update it, and special modules are developed for different needs.
Also, we create an article about WooCommerce website installation. Please check below;
WooCommerce Statistics
In the infographic below, I tried to explain the total downloads, usage, and popularity of WooCommerce with graphics. According to the statistics for the year 2020, WooCommerce has popularity 5 points higher than its closest competitor Shopify.
WooCommerce, which has a total of 80+ million downloads at all times, is currently actively used by 3.9 million e-commerce sites. The most popular themes for WooCommerce, which now supports more than 2000 themes, are Avada, Flatsome, and Woodmart.
In addition to over 6000 WooCommerce-compatible WordPress plugins, over 3000 modules work in full compatibility with WooCommerce. You can use the WooCommerce free plugins on the WordPress official plugins page or develop your e-commerce site with compatible modules offered for sale on the official site.
How to Install and Use WooCommerce?
After the statistics I shared above, it is time to set up and use this magnificent infrastructure. I previously prepared content called "What is WordPress and how to use it."
Before using the WooCommerce infrastructure, you must master WordPress and make sure that the WordPress infrastructure is installed for the WooCommerce e-commerce plugin to work. Because this plugin is not a content management system, it's an e-commerce module integrated into WordPress.
I explained where to start in my blog post below;
How to Install WooCommerce?
After installing WordPress, you should visit Plugins> Add New area from your administration panel. Find and activate the plugin by typing WooCommerce in the search field here.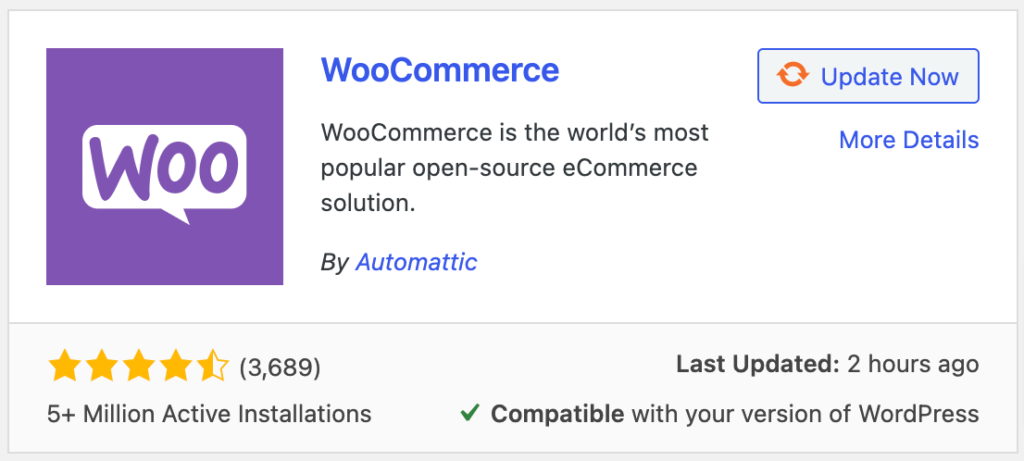 After installing and activating the plug-in, you will see the Setup Wizard, the start guide. I strongly recommend that you fill in all the steps here because these fields will form the infrastructure of your e-commerce system.
WooCommerce Theme Selection
When you fill in all the fields and come to the last step, WooCommerce will ask you which theme you want to use. You can continue with the WooCommerce default theme StoreFront or browse the WooCommerce themes on ThemeForest.
If you have not allocated a budget for your e-commerce site at the moment, you can continue with the complimentary theme.
Check whether the theme you like in the theme selection is compatible with mobile devices. Also, test the demo site's speed before purchasing the music from GTMetrix and Google Page Speed ​​sites. GTMetrix must be at the minimum value.
Select the theme that best reflects your business, click on the WordPress category, then the eCommerce sub-category on the ThemeForest site, and search for your article (for example, "Furniture").
This way, furniture, and home decoration themes will be listed. "Furniture" is a complete sample search; you can perform investigations related to your business.
WooCommerce Settings
I recommend you look at how this system is set up in the video I shared above. Also, I will try to list all the WooCommerce settings in the list below;
WooCommerce Menu
Orders: In this area, you can see the details of the sales you have made on your site. This area is located in which products your customers buy, customer address, and invoice information.
Reports: From this tab, you will see the statistics of the sales performed by year, month, day, and for specific date ranges. In addition, customer and stock statistics are also included in this area.
Settings: This tab is where your e-commerce site's settings are made. Here I listed the settings options one by one;
General: In this part, your company's address information, shipping locations, currency settings, and shipping coupon activation settings are located.
Products: In this section, you can add your weight measurement units by adding your store page. You can also find the area to activate comments on your products here.
Shipping: In this tab, you set the shipping price and options to send the sales made from your site.
Payments: You receive your sales on your e-commerce site with the payment methods. You can easily integrate PayPal, although the default is bank transfer/eft, cash on delivery, check payments, and Stripe.
Accounts and privacy: You can set your site's privacy policy and sales contract with the settings on this tab. You can also activate the account opening and account deletion features of the users in this area.
E-mails: In the information contained here, we make adjustments to our customers and ourselves, through which e-mail addresses they will receive an e-mail when an order is received, and other arrangements.
Integration: This area contains MaxMind settings that provide detection according to geographic location and your Facebook pixel settings if activated.
Advanced: You can choose the cart, payment, my account, and terms page in this area with advanced settings. Also, WooCommerce endpoints are located here.
Status:

Settings and notifications in this area contain technical information about your site's infrastructure. You can also clear the cookies of your e-commerce site and recreate your store images with the applications in the Tools tab in this area.

Extensions:

It is where the paid modules on the official WooCommerce site are located.

Dashboard:

You can find your sales on your site graphically in this area. You can narrow and expand the time by selecting a date.

Customers:

This tab contains the information of all your customers who have ever ordered from your site. You will find in this area how much they collected from your site and from which country they entered.
You may also like;
Products Menu
All products: You can add new products and import and export your products in the tabs in this area. You should also check your stock here.
Add new:

You should make product entries on your site from here.

Categories:

Here, you add the categories of the products you publish on your site. You must first add your classes; then, you can start product entries.

Tags:

All tags are listed here when you enter "Product tags" from the right field while adding products.

Attributes:

The field allows you to add different product variations. It would help if you first created the attribute from the form here and then added the variations appropriate to the point. For example, you must create a " Size " feature and add the terms (e.g., s, m, l, xl, etc.).
WooCommerce Recommended Integrations
I want to mention some modules and plugins you should use after getting to know your WooCommerce settings. These plugins are not mandatory, but I strongly recommend using them.
Jetpack (Free)
Jetpack plugin is one of the default plugins of WordPress developed by Automattic. In the Jetpack plugin, you can install WooCommerce mobile applications on your phone and thus control your sales from your mobile phone or tablet. Jetpack also optimizes your e-commerce site and enables functions that help your site open faster.
Facebook for WooCommerce (Free)
It is the official Facebook plugin developed by WooCommerce. With this plugin, you can add your products to your Facebook catalog with just one click. In this way, you will also use the Instagram Shopping feature. The Facebook for WooCommerce plugin also measures your customer behavior with pixels, allowing you to create more efficient ads.
Yoast SEO (Free)
With the Yoast SEO plugin, you can make your website visible on Google. With this plugin, you can create a site map, add meta titles to your products separately, and add descriptions and social media images to all your product categories. I strongly recommend you to read my WordPress SEO plugins article.
That's all I have to explain for WooCommerce. Thanks for taking the time to read my article. Please don't forget to subscribe.