Creating a website is a grave decision. You should grasp the entire website process well, choose the right colors and fonts that best reflect your business, and use WordPress themes that are fully compatible with mobile devices.
This article will look at the most popular WordPress themes of 2022. In the list, we tried to include pretty cool e-commerce themes along with corporate themes. So be sure to check them out too.
These WordPress themes, prepared by expert web design agencies, are designed with corporate sites, SaaS, startups, news magazine blogs, personal portfolio sites, and e-commerce sites in mind. Most of the themes prepared by Envato authors have reached over 50,000+ sales figures and are preferred by the world's leading startups.
The premium WordPress themes on the list are tailored for people new to web design and are presented with simplified documents and training videos for you to create your website. If you don't know where to start with WordPress, the following article will help you.
The average price of all the themes in the list is 59 dollars, but most of the time, there are campaign processes, and do not forget that you can get a 50% discount.
As you browse through the WP themes featured here, know that each article excels in its way and serves a unique purpose. One site may be an excellent visual design, while another may be a perfect example of interaction.
Most Popular WordPress Themes
Avada
Total Sales: 850k+ / Price: $69 / View Theme
At the top of the list, of course, is the Avada theme has reached 900 thousand sales at the top of the list. Avada, the best-selling WordPress theme ever, offered a single demo and 30+ different homepage versions until 2019. After 2021, it became a valuable theme for hundreds of other sectors thanks to various theme demos.
Since this theme has its page creation module, all the changes you make in it will be unique to this theme. Since it is not compatible with Elementor and WP Bakery plugins, you may find it difficult to change the design of your website.
Offering high performance to its users, this theme allows you to create your website with one click right now. If you buy this theme with a single license, you can use it on only one website. You need to purchase a new request for your new website.
The7
Total Sales: 270k+ / Price: $39 / View Theme
The7 theme, which I use very much, comes in second place. The7 WordPress theme supports Elementor, Elementor Pro, and WPBakery plugins based on the Avada theme.
You can make a great website with your familiar page builder. Suitable for e-commerce, The7 also supports WooCommerce and Easy Digital Downloads plugins. It is also possible to create great quality forums with this theme, which is fully compatible with bbPress, the official forum plugin of WordPress.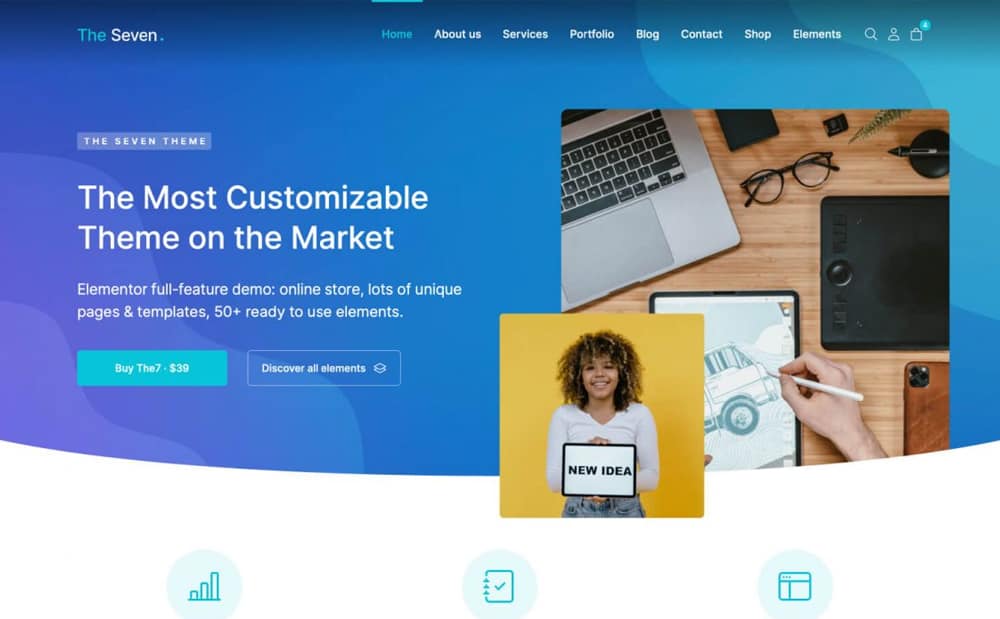 Thanks to the WooCommerce page builder, which is not available in many themes, you can customize the product page of your e-commerce site as you wish and give your customers a great shopping experience. Considering the slow nature of WordPress, The7 theme gives you over 90% site speed. It currently has more than 48 demos and is ideally suited for almost any industry.
Betheme
Total Sales: 260k+ / Price: $59 / View Theme
3rd place on the list is BeTheme, one of the themes with the most demos. It's hard to believe, but it is possible to create a total of 650 different sites with BeTheme. You don't have to make these sites yourself; BeTheme creators have prepared more than 650 website designs for you and presented them in a single package.
It will take a lot of time to explain the features of this theme. To take a brief look, it is fully compatible with WooCommerce; it is possible to install the demo you want with one click, it has almost unlimited theme settings, and in this way, you can easily make the font and color combinations you like. Thanks to the beautiful header and footer designs, you can easily display each menu on your site.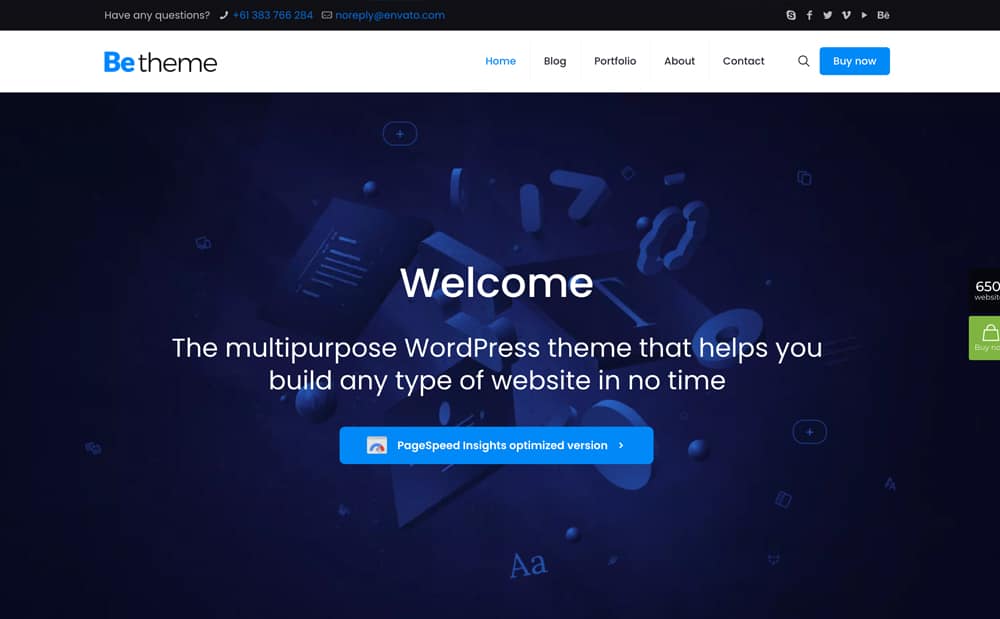 If you do not have much coding knowledge and want to make a website that is fully compatible with mobile devices, BeTheme can be an excellent choice.
Flatsome
Total Sales: 200k+ / Price: $59 / View Theme
Our next stop is Flatsome! Yes, get ready to meet the best-selling theme developed for WooCommerce. The current price of this theme, which sells 200 thousand copies in total, is $59 and its sales continue to increase day by day. So, let's take a quick look at what makes this theme special. In addition to being fully compatible with all modern browsers, your e-commerce site can be viewed easily on mobile devices.
It is possible to make your own design within the theme without the need for Elementor and similar page builder plugins. If you want to create an e-commerce site with WordPress, Flatsome is probably the right choice for you. Each product page is customizable and has galleries, and unlimited color and font options.
With Flatsome, you can build anything with incredible easy to use Live Page Builder and large element library. There is unlimited options, customize anything and drag & drop header footer builder. What you want more?
Woodmart
Total Sales: 48k+ / Price: $59 / View Theme
Woodmart is ahead of our favorite e-commerce WooCommerce themes. We like this theme so much for many reasons, and it is necessary to take a brief look at them. You can now prepare a website suitable for the sector you want with 70 different demos.
This theme, generally preferred by beginner boutique sites, is also used by significant marketplaces. The multi-vendor plugin is fully compatible with the Dokan plugin so that you can create websites with more than one vendor. You can prepare different pages specific to each product and make unique product category pages. It has unlimited color and font features thanks to various demos selected for you.
Woodmart theme is compatible with all mobile devices and fully integrates with Facebook, Elementor, Elementor Pro, WooCommerce 6. x.x, WPBakery Page Builder, and WPML plugins.
Salient
Total Sales: 135k+ / Price: $60 / View Theme
Isn't it incredible that a WordPress theme sells 150,000 units, even though it costs $60? Of course, there are some specific reasons why the Salient WordPress theme is selling so well.
For example, this theme has 400 different demos and is fully compatible with WooCommerce. This means making a great e-commerce site using the Salient theme is possible. Like the Avada theme, it is possible to design great sites without needing any 3rd party page builder. Previously, we prepared the website of one of our customers with this theme. You can reach this site on our portfolio page.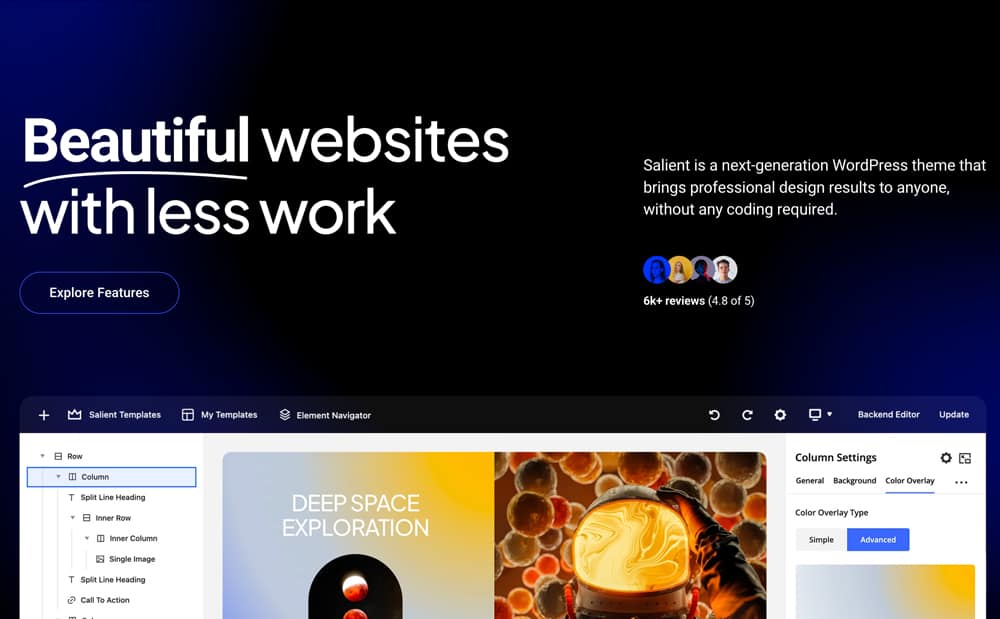 Thanks to the front-end design feature, you can see your site, edit all the details, and shape it as you wish. With 65 different elements, adding price tables, custom banner areas, and sliders is very easy with this theme. Don't you want to make great animations thanks to Lottie effects? This theme offers you much more than what you imagined.
Brigde
Total Sales: 190k+ / Price: $69 / View Theme
The Bridge theme is no different from the other themes listed above. This theme also offers you 610 various demos, and it is possible to make beautiful sites. Thanks to Elementor and Elementor Pro plugins, it is possible to create your site in minutes.
It has a very detailed document; you don't need to know any code to design the site. Also, the theme owner offers video tutorials. It's easy to make great e-commerce sites, thanks to their compatibility with WooCommerce.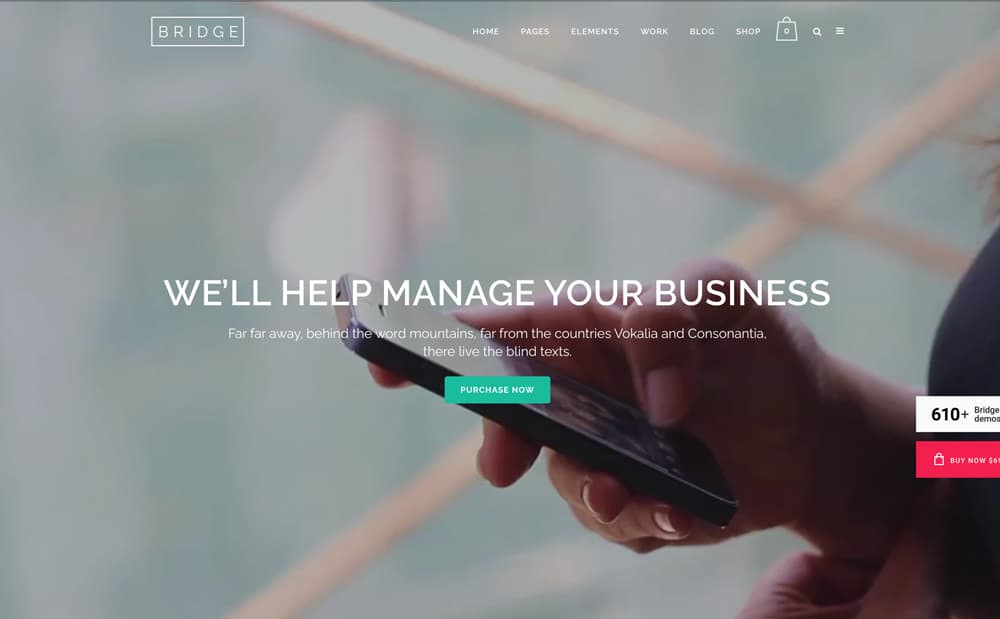 Setting up your site with one click is straightforward, and all demos are installed with one click. Magazine sites, listing sites, music and video sites, and holiday and education sites prefer the Bridge theme. In addition, the Bridge theme has a beneficial structure in personal portfolio sites.
Newspaper
Total Sales: 130k+ / Price: $59 / View Theme
Newspaper is the best-selling WordPress theme ever that lets you quickly write articles and blog posts. You don't just buy a theme when you buy this theme. You also get to work with a great support team.
Build the perfect news site with our Newspaper WordPress template. This best-selling theme is ideal for blogging and e-commerce, shopping, WooCommerce, news, newspaper, magazine, publishing, or review. It supports videos from YouTube. AMP and mobile ready. RTL and multi-language support. The GDPR-compliant theme is fast, simple, and easy to use for cryptocurrency, fashion, food, lifestyle, modern, personal, travel, luxury, viral, minimal, minimalist projects, web development, and more websites.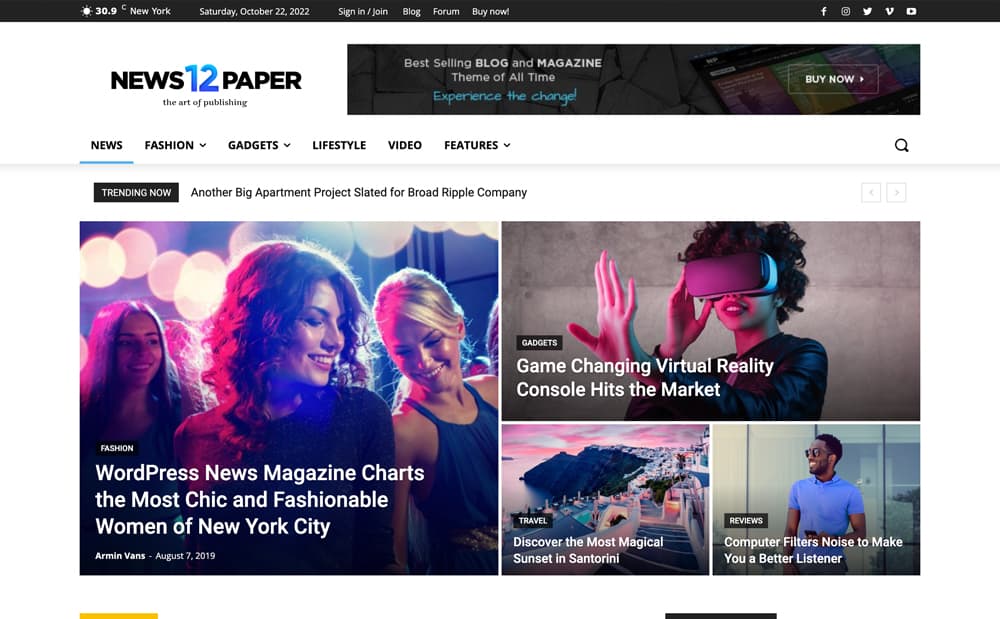 It uses SEO best practices to integrate with Instagram, bbPress Forum, BuddyPress, and WooCommerce. Newspaper supports responsive Google Ads and AdSense.
Uncode
Total Sales: 100k+ / Price: $59 / View Theme
Uncode is one of the best WordPress themes for any website (agency, freelancer, blog) and purchasing (eCommerce, any store, or business). Uncode was designed with attention to detail, flexibility, and performance. Also, the Uncode WordPress theme is compatible with all mobile devices and is fully compatible with modern browsers.
Uncode is clean and suitable for any niche: agency, freelance and architect designer, web designer, developer, portfolio, business, business, marketing, essential, corporate, event, wedding, artist, music, blog, magazine, store, and e-commerce.
It currently includes over 80 professional demo layouts. In addition, importing your work from another site is very simple with the Uncode Wireframes Plugin. If your website needs a custom design, Uncode is ideal for you.
Porto
Total Sales: 77k+ / Price: $59 / View Theme
The new version of Porto offers many new features and demos; they also improved the acceleration wizard, achieving the highest performance scores on ThemeForest.
Porto offers five great features – Soft Mode, Combined JS and CSS, Critical CSS, Type Generator, Single and Archive Generators. Soft Mode is a new feature that can be called a significant improvement. It made it possible to arrange everything.
You will be able to achieve high performance. Unified JS & CSS is also critical point in the new version. It limits the number of requests, so you can expect high speed on mobile even if you don't use caching plugins. You can build a site without touching a single line of code using full site builders. Critical CSS helps you reduce your site's render time. Your site may suffer from too many styles, but not all of them are used for the first time. Critical CSS helps you escape all that stuff.
Post Type Builder can create any archive post layout to match your website. As for Single & Archive Builder, most themes require customization for single and archive pages.
TheGem
Total Sales: 77k+ / Price: $59 / View Theme
TheGem WordPress theme will help you to create a high performance website specially designed and developed as an ultimate web creation toolbox of design elements, website styles and features. Explore your creativity without wasting time coding with this theme!
With over 50 unique multi-purpose design concepts, 200 stunning demo pages, eight navigation settings in over 25 styles, and flexible page layouts, the possibilities are truly endless. Your website will come to life in minutes with a creative agency with fancy ideas, including a full-featured WooCommerce store perfect for corporate businesses of any size and purpose.
TheGem WordPress theme also caters to the needs of freelancers, photographers, architects, and digital artists and offers great portfolio features with custom designs to suit individual needs. As a seasoned blogger looking for outstanding layouts to help you stand out, you'll be inspired by TheGem's blog features.
Impreza
Total Sales: 90k+ / Price: $59 / View Theme
Impreza is a great established theme that is the most used to come with WordPress. 92000 sales, and this theme are fully compatible with bbPress 2.6.x, Events Calendar, Gravity Forms, WooCommerce 6. x.x, plugins, and work with the WPML plugin that helps you to prepare your site.
Impreza WordPress theme is perfectly suitable for company websites, magazine sites, creative agencies, artist beauty, cars, churches, shopping, clinical conference consulting online courses, digital real estate, fashion, and hotel interiors.
Houzez
Total Sales: 32k+ / Price: $69 / View Theme
Houzez is the best real estate theme ever developed for WordPress. It is not difficult to say because it has reached the sales figure of 40,000 units. Creating great homepages is easy because it's compatible with the Elementor plugin.
You can sell online with this theme, which is fully compatible with WooCommerce. This way, you can accept payments and get reservations in projects such as hotels and restaurants.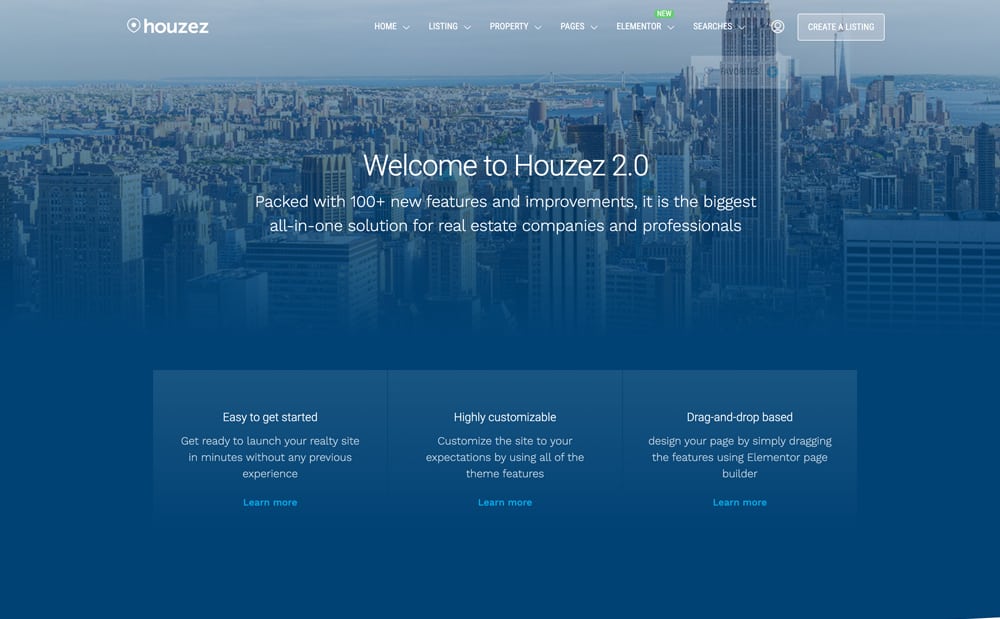 This theme, sold with 30 different homepage versions, is used safely by many real estate projects. Stunning designs are waiting for you with the color and font combinations on the theme settings page. Due to its SEO compatibility, it is friendly to search engines and fully compatible with mobile devices.
XStore
Total Sales: 33k+ / Price: $59 / View Theme
XStore is a popular WooCommerce theme used as much as our previous Woodmart and Flatsome themes.
There are extraordinary cart and checkout pages, and several particular pages are available for each product. XStore theme is fully compatible with the bbPress forum plugin, Elementor, WP Bakery, and WPML plugins. The features of this theme are; buy together, checkout counter, free shipping chart table, cross-sell and add to favorites.
It is fully compatible with all mobile devices with demos that you can install with one click and is ideal for election systems.
ListingPro
Total Sales: 26k+ / Price: $69 / View Theme
ListingPro is the best listing for WordPress. This theme is compatible with all modern browsers (E11, Firefox, Safari, Opera, Chrome, Edge). Thanks to Elementor and Elementor Pro plugins, it is possible to create your custom pages. Built-in 2017, this WordPress has been developed with three different demos from its first use.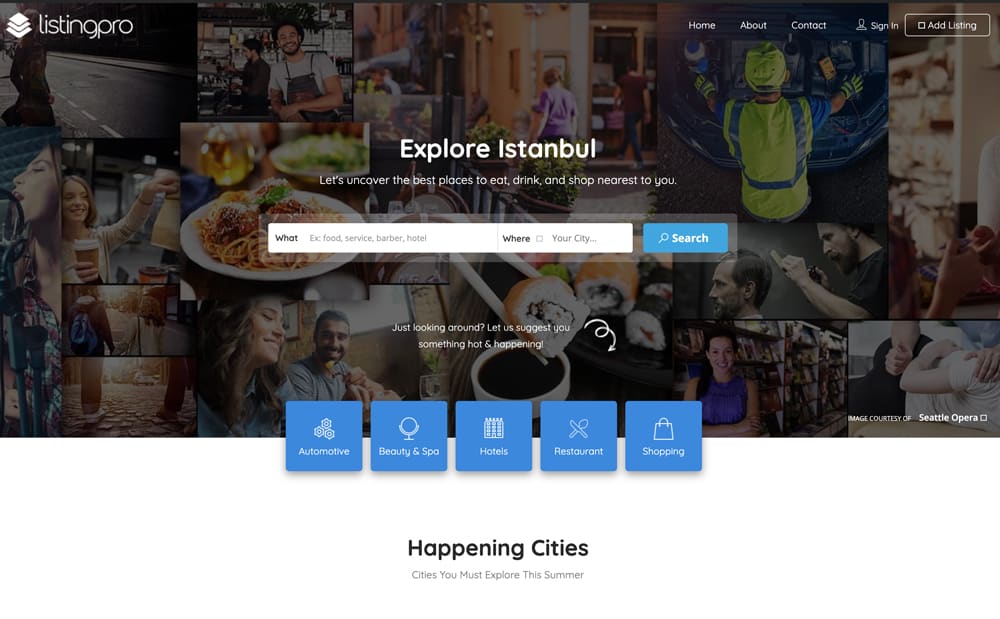 Currently available in 20 different homepage designs, ListingPro is mainly used for city guides. You can accurately reflect your understanding of custom design this WordPress by many manufacturers.
Where to Get the Best WordPress Themes
The easy way to find the best WordPress themes is to follow the Creaup blog. We will be sharing many professional WP themes under this category very soon. In addition, you can use ThemeForest company, where we can easily find special themes for the wishes of our customers.
Before purchasing a WordPress theme, check the reliability of the company you will buy it from. Research the website you will buy on Google first, do not buy cheap themes sold under the GPL license. For example, the regular price of the Avada theme is $59, don't believe anyone who tells you that they will sell you this theme for $5.
These themes are not licensed and can put your site in grave danger. In the worst-case scenario, your site gets infected, and you could lose your customer data. Don't take this risk, and always buy original themes.
Find a Beautiful WordPress theme for your Business
The easiest way to find a good WordPress theme is to know what you are looking for. If you don't see what you're looking for, you can probably spend your days searching for themes.
The WordPress themes you will use should be in the concept that best reflects your corporate identity and brand, if possible. Although the design's colors, fonts, and visuals are the most important criteria, the technology used is much more critical. In other words, make sure that the WordPress themes you buy are compatible with mobile devices. It is also very important whether the design opens quickly or not. You can use some tools for this;
These tools will help you a lot before purchasing your theme. In addition, the theme's price, support time, and customer reviews are also very important. Buy your theme by paying attention to all these criteria.
Editor's note: This post was originally published in October 2022 and has been updated for comprehensiveness.